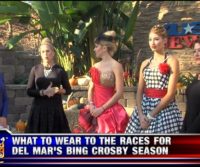 On Thursday mornings KUSI news segment, Deena presents fashions for the Del Mar Bing Crosby Season typical of what would also look great for the Opening Day "Vintage Hollywood Fashion Contest".
Models, Brooke in a glamorous version of a pin-up look, and Christiana with the pill top hair style looks amazing. Both are wearing Designer Dresses by Gladis Pleitez. Make-up is artfully done by Eileen Haligowski of Studio Savvy Salon and Mirror Mirror On The Wall Makeup
In case you cannot tell, Deena goes the extra mile to give credit to everyone around her, but don't lose sight of those fantastic hairstyles that she masterfully creates, and her amazing fashion sense to orchestrate these looks.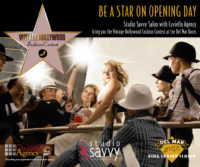 Show off your hottest Hollywood Style & Glam by dressing up and entering the "Vintage Hollywood Fashion Contest". Men, Women and Couples, you can all compete for more than $3,000 in cash & prizes just by dressing up and competing to be one of Hollywoods Best Dressed! Sign-up between at 11am and 1:30pm in Plaza de Mexico, located just inside the Stretch Run Admission gates.
Opening Day is always one of San Diego's biggest parties, so don't miss out. Everyone is invited to dress up. Be a stunning beauty from the 30's & 40's, a true Hollywood Celebrity, or a fabulous duo. So lets party it up and show everyone your inner Hollywood Star! All entrants will receive two free admission passes to the Fall races. We can't wait to see you.