With your Big Day being all so so so important to you, Studio Savvy is offering free tickets for you to come to the San Diego Wedding Party Expo.
The event is SUNDAY, November 1st, so act now!
Studio Savvy Salon will be at the show and pulling out all the stops to show you or anyone you know that is getting married how we can make your wedding more memorable than you ever imagined!
To get your free tickets, you will need to have them emailed to you. If you don't already subscribe to our email list, then please call the Studio, give them your email address. And you MUST tell us that you need a copy of the most recent email regarding this Sunday's Wedding Party Expo.
Studio Savvy is one of San Diego's premier Salons for hair, make-up and styling. Deena Von Yokes leads her experienced wedding team to deliver you and your wedding party unique, elegantly fashionable, incredible styles for the beautiful memories you deserve.
Please come and see us at the expo November 1, 2015
Marriott Marquis San Diego – Marina Ballroom, South Tower
333 West Harbor DriveSan Diego, CA 92101
For the 8th year in a row Leonard Simpson's Fashion Forward® is holding the annual 10 Best Dressed Awards Gala. The awards honor San Diego Philanthropists who dress everyday with the Gloves of Compassion and a Coat of Courage®. This is a special year, not only is this year's proud benefactor "The Moyer Foundation", it is also a tribute to 10 Best Dressed Co-Founder, Sally B. Thornton who sadly passed away this past June. We will be at the awards to honor Sally for all she has done. We will be watching the awards continue the tradition of raising funds and helping them put on another fantastical-theatrical fashion show.
Over the past few years Deena Von Yokes has been a contributor to the awards by contributing her styling talents to the production of the show, and having her team handle all the hair, make-up and costume styling for what is always an absolutely stunning show!
This year however is extra special, with a wonderful surprise for all of us. Read More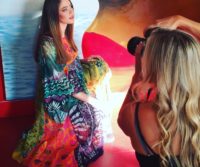 Check out all the fabulous fun stylists Deena Von Yokes, Kassidy Vaughan and photographer MegN. Photoraphy had while they took on London at the international hair show. They had an amazing time roaming the streets of Europe on this fashion quest. Deena and Kassidy are so excited to be back in the salon inspired and knowledgeable. Take a peak at more of there adventure on Instagram @studiosavvysalon
Read More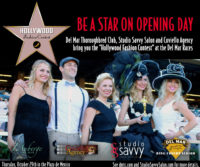 Get ready for the Fashion Event of the Fall on Thursday, October 29th, Opening Day of the Bing Crosby Season at Del Mar
Show off your hottest NEW or OLD Hollywood Style & Glam by dressing up and entering the "Hollywood Fashion Contest". Men, Women, Couples, Celebrity Look-A-Likes, Famous Movie Characters, you can all compete for more than $3,000 in cash & prizes just by dressing up and competing to be one of Hollywoods Best Dressed! Sign-up between at 11am and 1:30pm in Plaza de Mexico, located just inside the Stretch Run Admission gates.
Opening Day at Del Mar is always one of San Diego's biggest parties, so don't miss out. Everyone is invited to dress up. Be a stunning beauty and show off the latest fashions, be a true Hollywood Celebrity, a fabulous duo or anything Hollywood. Shoot for the Stars! Lets party it up and show everyone your inner Hollywood Star! All entrants will receive two free admission passes to the Fall races. We can't wait to see you on Thursday the 29th.
Studio Savvy is having a special on all regular sized products! Starting Saturday October 3rd-Saturday October 17th when you buy 3 or more products you get 20% off (not including travel size products and large back bar products). Don't miss out and come visit us at our Studio Savvy Salon!
Savvy stylists' Deena Von Yokes and Kassidy Vaughan are going to be missed very much while they are out of the country for the next few weeks. They are very excited to be attending the London International Hair Show this October and can not wait to be back in the salon with new cutting edge styles, and crafty new color techniques to bring back into the salon.
Deena will be returning on Friday October 16th and Kassidy will return into the salon on Saturday October 17th. We're still here for you though! While Deena and Kassidy are getting inspired in London, the Studio Savvy Salon will still be open.
Our Savvy team will still be in the salon Tuesday-Saturday to accommodate you for any of your hair wants and needs. We are also very happy to announce the Savvy family is growing. Desiree and Kyla are our new members on our "Glam Squad" team.
All of us will be here for you so call today and book your appointments for the upcoming holidays!