The Studio Savvy Glamsquad arrived early the day of the Wedding Party Expo to style the hair and make up of the bridal models for the fabulous runway show.  But once the doors opened, brides-to-be were flocking to our chairs seeking on-site styling, make up and consultations for their Big Day.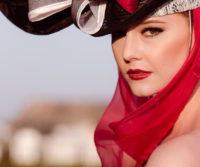 As you can tell from this great video from SJUTV, our Hollywood Fashions and Fashion Contest were again a big hit for the Fall race track meet at Del Mar. Our friends Joe Harper and Craig Dado give some nice information for all you race track and fashion fans out there. We love the track side tables. And dressing for the Turf Club is always fun. The track is a fantastic venue to show off your fashion style, whether it's opening day or any other day of the racing meet. Their web site has all the deeds DMTC.com, and for those of you that want to know what that stands for… Del Mar Thoroughbred Club. Now it's time to Dress Up and Head Out. We'll see you there!
Studio Savvy's Deena Von Yokes was race day fabulous as she took on being the creative director on Opening Day. Deena and milliner Christine A. Moore put into detail all the cutting edge fashion from head to toe for last years races and as director of the famous Hats Contest. Nothing says glamorous like a beautiful dress with a striking hat to complete your race day ready look. Check out all the fun they had with the news casters and get inspired for 2016 Opening Day, Friday July 16.
And all through the race track, not a creature was stirring, not even a horse. No, not even a horse, but at 3:30am Deena Von Yokes and the Studio Savvy Glam Squad were wide eyed and preparing for a full Opening Day Fashion Frenzy. Why? Because "Fashion Never Sleeps!", especially with Studio Savvy!