Here at Studio Savvy, our clients are our number one priority. We want to make sure that each and every one of you can get an appointment that works best for you and that every client leaves happy. On that note, Deena would like to let everyone know that although she sometimes is not available, she has a highly trained and competent group of girls who can take care of you when it works best for you.
Brooke, Victoria, and Mariah have trained under Deena for quite some time now. They are well educated on her techniques, formulas, and the ways in which she takes care of her clients. All three girls have attended many classes both inside the salon, and through outside educators on color, cutting, styling, etc. Deena is more than confident in her Three Amigas to take care of her clients that she is unable to take care of herself.
Deena also wants all of her clients to know that this is not, by any means, her way of "getting rid of" or "passing on" any of her clients. She wants you all to know that this is simply a way to accommodate everyone and make everyone happy. If, in the event that you are unable to get in with her for a tint touch-up, Brooke, Victoria, or Mariah can apply your color and then Deena can cut your hair. This is our best solution to scheduling everyone at their best convenience while still keeping Deena's connection with each one of her clients. So please, the next time you call to schedule an appointment, if Deena is not available at the time you want, please keep Brooke, Victoria, or Mariah in mind to take care of your hair care needs!
Go Red For Women and the American Heart Association are inviting all women to unite to fight heart disease and stroke, which cause 1 in 3 deaths among women each year. You can join the cause by attending the 2016 San Diego Go Red For Women Luncheon on Friday, March 4th. The luncheon will be held at the Fairmont Grand Del Mar and will include a Health Expo from 10am-12pm followed by a luncheon from 12pm-2pm.
Most excitingly, the Go Red event will feature a fashion show from none other than, Dame Zandra Rhodes! Behind the scenes, our very own Deena Von Yokes and her mom, Vickie Lavanty, will be collaborating once again as a fierce mother-daughter team to create fabulous hair fashion for Zandra's fashion show. Zandra's Go Red designs will also be for sale! We know you don't want to miss this special opportunity to not only give back, but also to experience the extraordinary artwork of Zandra Rhodes and our favorite mother-daughter hair fashion team. Tickets are being sold for $150 and tables are available for sale on the Go Red For Women Luncheon website. Here at Studio Savvy, we strongly believe in giving back to the community, in the best way we know how, sharing our passion for fashion and beauty, and we invite you to come see the exciting fashion looks on the catwalk!
Recently, Deena and Kassidy and Karin went to a workshop with Tracy Cunningham at her Beverly Hills salon. Tracy Cunningham is a celebrity colorist with a number of well-known clients and she was kind enough to share many of her formulas and techniques—including Khloe Kardashian's formula! While we won't go into all the little details of the current hair trend techniques, we would like to share with you what's popular and trending now. One word we're sure everyone is familiar with is balayage, however, most people don't actually know what it means. The term balayage comes from the French word meaning "sweeping." When it comes to the hair world, one of the main things that separates it from other techniques is that it allows the stylist to use free-hand painting—no foil is used. This allows for a natural, sun-kissed look because the hair is painted where it naturally falls or lays. Balayaging the hair results in a softer, less noticeable regrowth line, which means less maintenance is required. Similar to the balayaging technique, is a hair trend we at Studio Savvy like to call a color melt. Color melting blends the highlights with the base so that there is no harsh line. It keeps depth at the roots and the ends light. Dark hair next to light hair emphasizes brightness and lightness. When it comes to a color melt, multiple shades of color are used to create the "melted" effect; so it's all about a soft graduation effect, regardless of the colors used. Color melt allows for a lot of dimension throughout the hair and movement in the color. The other key in a color melt is to use a gloss at the end to melt the colors together. One hugely popular technique that Tracy Cunningham touched on in her workshop is babylights. Babylights are delicate highlights that mimic those fresh, natural highlights given by the sun. The results are subtle and beautiful. Babylights are low maintenance because the grow out is softer and more subtle. They can be done on any hair type and color—in fact, most of the time we combine a variation of these techniques to get the beautiful results all you fabulous fashionistas desire. We at Studio Savvy would also like to remind all of you to please remember to wash and condition your hair every couple days in this dry weather. It is very important to remove buildup on the scalp and replenish your thirsty ends! We also want to encourage you all to ask your stylist about any of these trendy techniques during your next visit; and until then, friend us on Facebook, follow us on Instagram (@studiosavvysalon) and Twitter to stay up to date on all of our fabulous adventures!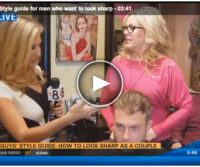 Hello to all our fashionistas out there! We have an update from our last blog–we have our two news segments from Monday, February 8th with Ashley Jacobs from Channel 8 News to share with you! Featured are not only tips for women on how to get that perfect look for Valentine's Day, but we also shared our knowledge on men's current hair fashion. You can also see us get to have a little fun with Ashley, teaching her not only how to style hair, but also how to cut some hair!! Check it out 🙂  Please friend us on Facebook as well as on Instagram @StudioSavvySalon to stay up to date on not only what we are up to, but also to stay current on all the latest fashion trends!
Read More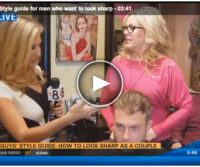 Read More, or go back to watch the first vide Continued from http://www.studiosavvysalon.com/watch-our-cbs-8-news-valentines-day-segments-with-ashley-jacobs/
Read More
Happy Valentine's Day from your girls at Studio Savvy! We are happy to share that Deena is back at it again! Even with her busy schedule, she has found time to help host a couple news segments with Ashley Jacobs on Channel 8 News. The segments will air on Monday, February 8th at 5:40am and 6:40am and will be covering secrets on how to keep your hair sleek and flawless during the upcoming rainy season. Kassidy will be alongside her to assist and talk about the different treatment options we provide to keep your hair shiny and smooth even when it's damp out. They will also be giving a tutorial on how to help any man go from drab to fab and make sure he can not only keep up with his fabulous Valentine's Day date, but, even better, compliment her beauty. We at Studio Savvy just want you to take a second and make sure you and your hair are ready for this holiday of romance—and don't forget that we are here, and more than happy, to help you with any of your hair care needs to get you ready for your big date!