Your fashion experts at Studio Savvy were back at it again for the 22nd annual Opening Day Hats Contest at Del Mar! More than 300 contestants entered the Hats Contest this year, with Andria Elam, from Best Fascinator category, winning the Bing Crosby Grand Prize.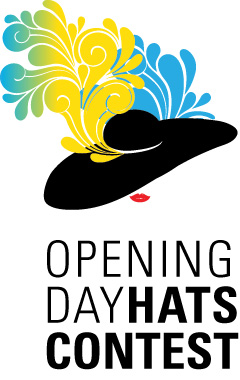 Let's get this party started!
Friday, July 15th, we light this candle. If you have an idea for an Outrageous hat, or you are ready to knock everyone out with the Most Glamorous, Best Fascinator, amazing Best Flowers hat, or one of those Horse Racing, track inspired giddy-ups, then you need to JOIN THE HATS CONTEST and win some serious prizes!
Again this year Deena Von Yokes is the Creative Director for the Opening Day Hats Contest. Right there with her will be the bevy of beautiful models, spectacular hats and fashions that are sure to be stunners. The Studio Savvy Glam Squad will be the fillies charging to the finish to make all these looks complete with hair, make-up and styling directed by Deena. The hats are created by the extraordinary milliner, Christine A Moore. Remaining wardrobe is going to be by local fashion designer sensations, Olga Sanchez, Jemima Dutra, and TRE Boutique shop keep stylist, Sheree Vihon.
Whether you come to watch, or take home the Grand Prize, you are guaranteed to have a great time. Visit the Del Mar Thoroughbred Club web site for full details. We can't wait to see you!
Read More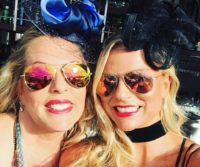 This Wednesday, July 13th from 11am to 7pm is the return of the Spectacular Studio Savvy Salon Trunk Show.
Delicious free food will be catered for your mid-day cravings, from noon to 3pm. And we will be pouring some cool crisp white for the entire event.
Come over to Studio Savvy in Rancho Santa Fe and choose from this seasons most Spectacular Hat Fashions of 2016.
We have gorgeous hats starting at just $35. We are selling famous pieces by nationally renowned, Official Breeders Cup Milliner, Christine A Moore.
Don't miss it! Be sure to tell us about your race day outfit, get great fashion tips, and make this your best summer fashion and race track season yet.
Studio Savvy Salon is located at: 16081 San Dieguito Rd. Suite G3 Rancho Santa Fe, CA 92067
Read More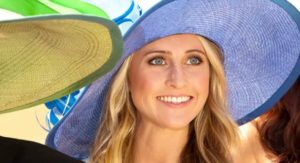 The Studio Savvy Glam Squad will be featured LIVE on CBS Channel 8 News with Ashley Jacobs TOMORROW MORNING, July 7th, at 5:40am and 6:40am.  We will be discussing everything you need to know to get ready for Opening Day, so set your cable boxes to Channel 8 to tune in!
Deena and Joe Cuviello will also be directing a fun little fashion hat contest with FINE Magazine at the Del Mar Plaza, tomorrow at 6pm, so come on out and sign up and join the fun!
The countdown to Opening Day is ON!  If you don't already have your hat, don't worry, we at Studio Savvy have got you covered.  Wednesday, July 13th, we will be hosting a trunk show here at Studio Savvy from noon to 7pm.  Come have a sip of bubbly, and find your hat for this year's Opening Day!
In honor of Opening Day, we will also be running a SPECIAL from Tuesday, July 12th to Saturday, July 16th.  We are offering a complimentary Powerdose with any service!  A Powerdose treatment is one of the best things you can do for your hair this summer, so book now, as availability is limited!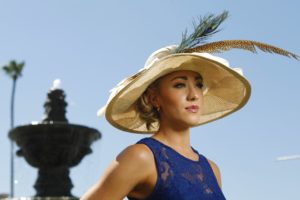 TIP: The biggest question everyone asks themselves, do you get the dress or the hat first? Answer: It all depends on personal preference, but the trick is, bring either your hat or your dress, whichever you pick out first, with you when trying to pair the latter.
We are so excited to see all of you fabulous fashionistas out there at Opening Day on July 15th!  Until then, stay tuned on our blog, Facebook, Instagram and Twitter to see all the fashion fun we are getting into to prepare for the big day!