Hello again, savvy fashionistas!
Spring is in the air, and clocks are not the only thing that are in needed of changing. It's that time of year again to give your hair a fresh new look, and we at Studio Savvy have some tips and tricks to help you spring your fashions forward!
We're not sure if you've noticed, but fringy clothing is all the buzz this spring season. Fringe is not limited to clothing however, fringy hair is making a comeback. We are loving the updated look on the old school shag haircut!
Most of us need a little guidance when it comes to that perfect blow out, so here are our Savvy Tips & Tricks to blow drying: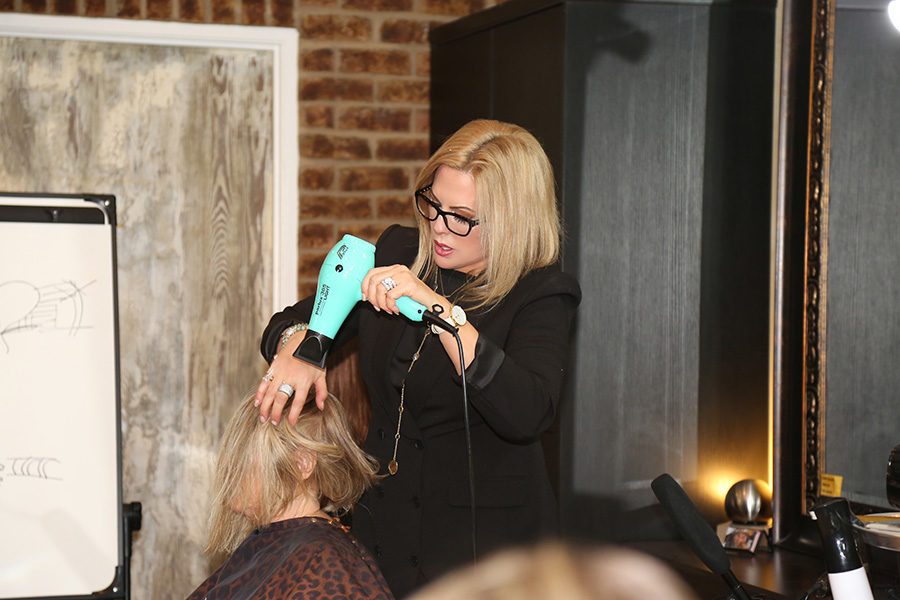 First, start by power drying your roots, make sure to get them good and dry while getting some of the water out of the mid shaft and ends, but leaving them a little damp.  From there, section off your hair into at least 3 sections, someone with thicker hair may need to section it into 4 or 5. Start blowdrying from the bottom and work your way up to the top. Savvy Trick: hitting the cool button on your blow dryer will help to set your style, as well as close the cuticle and add shine!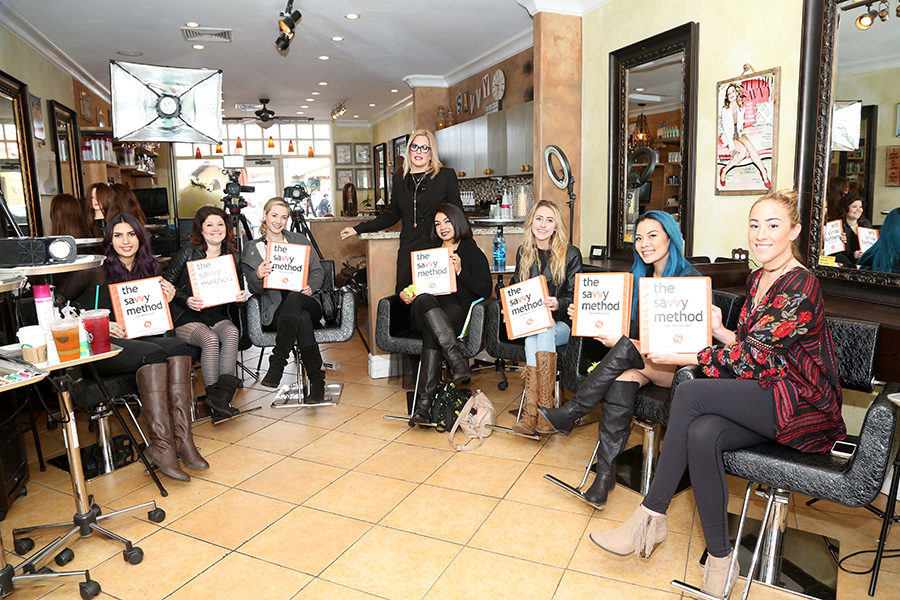 Here at Studio Savvy, knowledge and service are our priority.  We have put so much time and effort into making sure that the entire Glam Squad is properly trained and knowledgeable, not only on product, but also on technique and how to take care of our clients. We spend our days off immersing ourselves in hair education so that we can better serve you, the client.  We are so excited to continue our learning of the hair and fashion world, and we can't wait to share it all with you!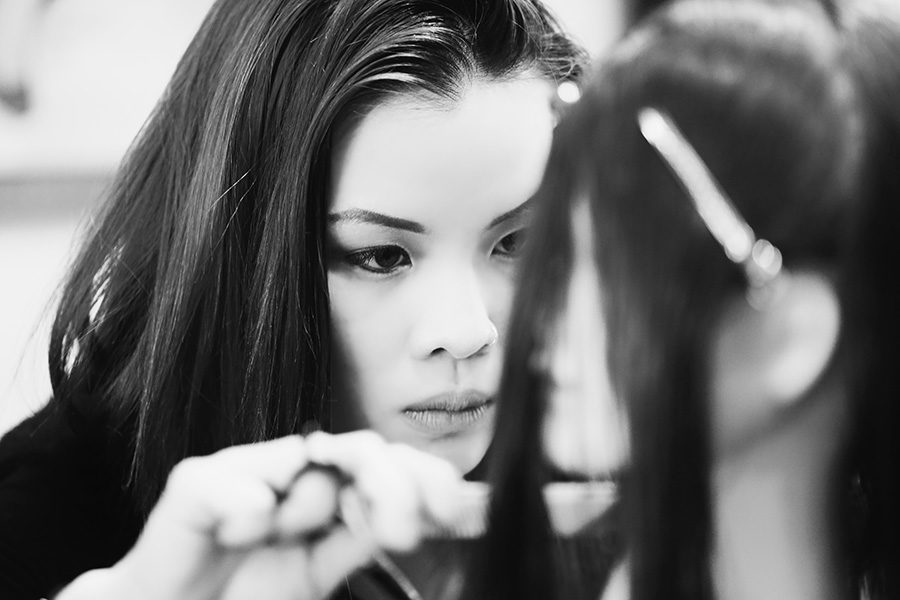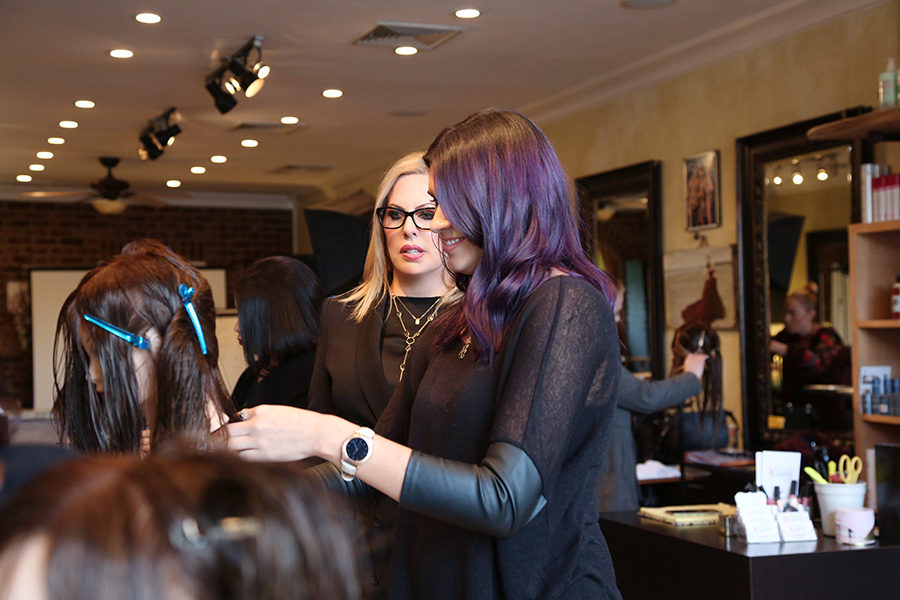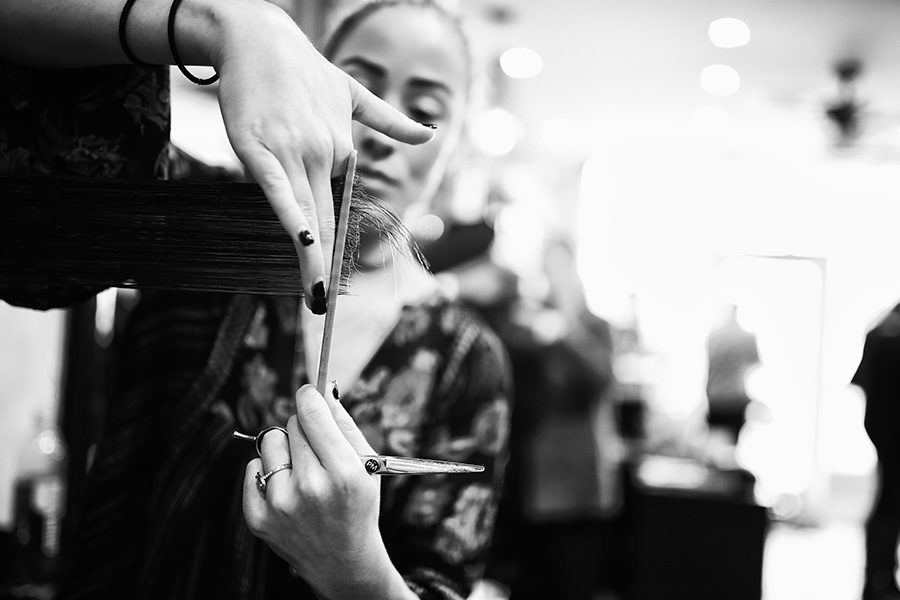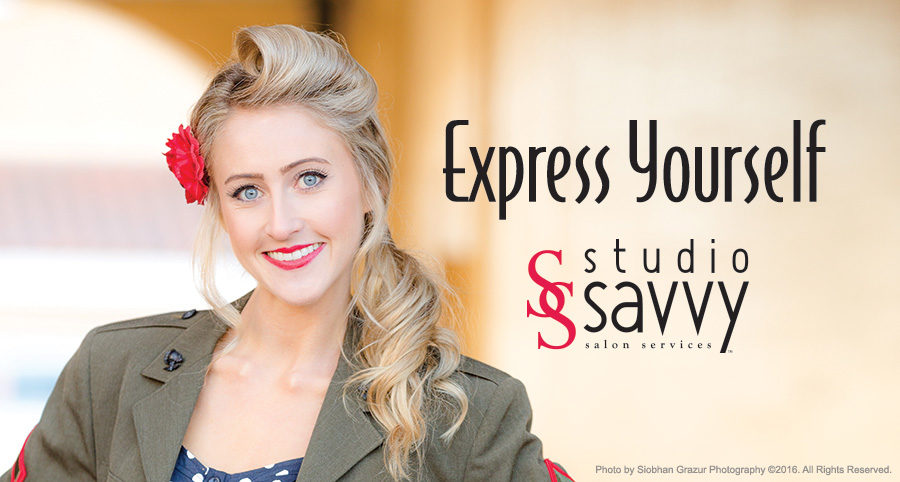 Happy New Year to all you amazing, wonderful clients! We hope your holidays were filled with joy and love.  To show you all how much we appreciate our clients, we are offering a New Year special on all products sold here at Studio Savvy–buy 3 products and get 20% off!! This offer will last for the entire month of January!  We feel so lucky to have such fabulous clients, so we want to make you all feel fabulous as well!
Deena and the rest of the Studio Savvy team are so excited to announce that this year we will be expanding the business!  We will now be entering the world of continued education in advanced hair color, hair cutting, hair styling and more with the opening of Deena's Von Savvy Hair Academy!!  Deena will be teaching her first class on January 23rd, with many many more classes to come!   Education is so important to each and every stylist here at Studio Savvy, and we are so happy that we are now able to share our knowledge with fellow hairstylist, and have the privilege to continue learning ourselves.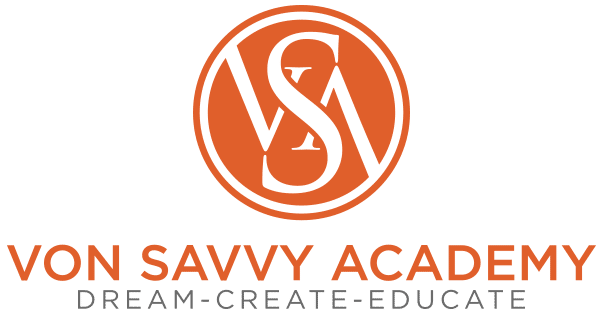 Thank you all so much for being such wonderful people and allowing all of us here at Studio Savvy to take care of your hair!  Stay tuned for more updates on the ever advancing Studio Savvy in this new 2017 year! And don't forget to take advantage of our product special for the month of January!
WE WORK AS A TEAM!!!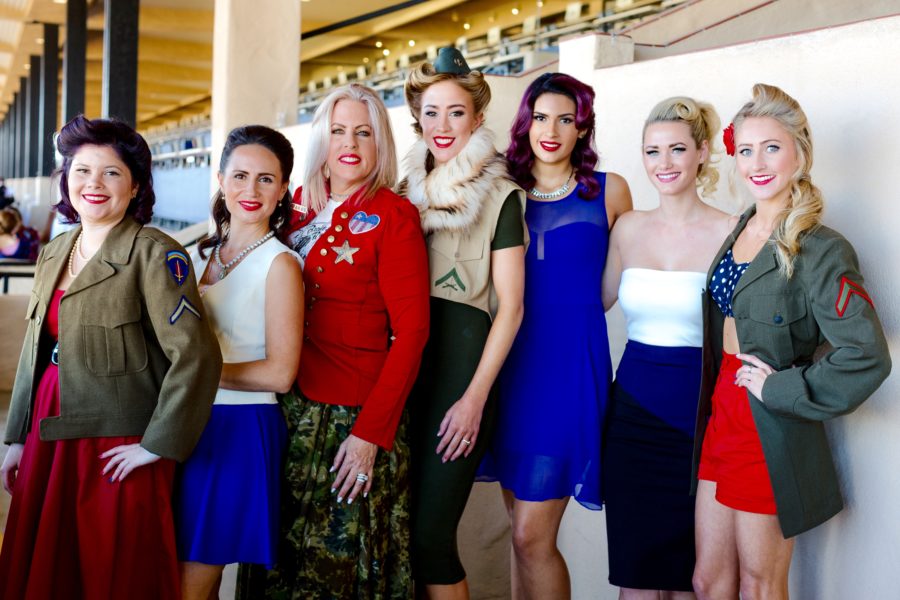 BOOK NOW!  The holiday season is officially here, and so are all of those fun-filled holiday parties and family gatherings. Here at Studio Savvy, we only have a few available spots left for appointments, and we want to make sure everyone is looking their best this season!
For the last five years, Deena has worked very hard to train the Studio Savvy staff, making sure that every one of our girls is highly skilled and highly trained for your hair care needs. So even if you are unable to get in with Deena or your regular stylist, Deena has the upmost confidence that her Dream Team can, and will, take care of you during any service for your holiday needs! We pride ourselves on our ability to work so well as a team, and we want to show you all how much we appreciate each and every one of our clients, so let our tribe take care of you this holiday season!
Need some holiday hair inspiration? We've got you covered! Whether you're looking to change up your color or just switch up your every day look, we've got some insider knowledge for you!
One of our favorite current color trends is something experts are name the Tiger Eye. This brunette shade is created with a combination of hand-painted honey hues and soft brown highlights.
Tip: the Tiger Eye is great for someone who is not big on color maintenance because there are no harsh roots during the grow out process. Also note, this technique is not limited to just brunettes, it can be tweaked for blondes, red heads, etc.
Looking to update your every day hair style? We have some ideas for you!
LOB
As many of you know, the Lob (short for long bob, for those of you that don't know) has been all the rage lately, and it's not going anywhere anytime soon. So if you are one of those brave ladies that traded in your long locks for a sassy shorter cut, but are feeling a bit "blah" in your every day hair routine, try this: Switch your part to a far side part! This simple trick can really switch up your look, and even make your cut look slightly asymmetrical and more layered.
Tip: To train your hair to stay in its new place, use a dime sized amount of finishing cream to keep unruly strands tame. We suggest U-Oil or Second Day from Unite, or Stop Frizz from Framesi, all available to purchase here at Studio Savvy.
STRAIGHT HAIR
If you have straight hair, or are a flat iron addict and want a change, try adding a little texture to your mane with this little trick: do a few loose braids, run a flat iron over them and then pull them apart, creating some beachy-wave texture.
Tip: After pulling the braids apart, spritz a little texturizing spray throughout your hair to help hold your style, as well as give your hair a more finished, pieced out look. We suggest Unite's Beach Day or Salty Dog from Evo, both available for purchase at Studio Savvy.
CURLY HAIR
Sometimes curly hair can have a tendency to give us volume horizontally, rather than the desired vertical height and volume we all strive for so try this: let your hair dry in an opposite part from how you usually wear it. Once dry, flip your hair back over to your normal part, which will give you more height, and less "triangle."
Tip: if your hair is not perfectly curly or a little too frizzed-out once dry, touch it up with a curling iron or wand to give it a more uniformed curl and a more polished look!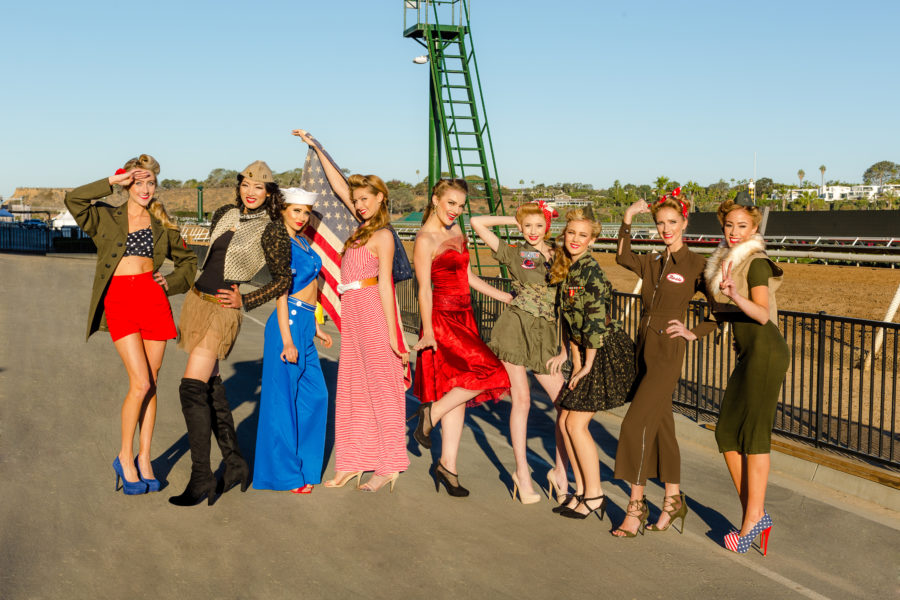 Now that we've updated you on some of the current trends and how to switch up your every day look, we'd like to catch you up on what we've been up to! November 11th was not only Veterans' Day, but also Opening Day for the Bing Crosby season at the Del Mar Racetracks, and our Studio Savvy Dream Team thanked our beloved Veterans in style! Deena and the Dream Team brought patriotic to a new level with an abundance of red, white, and blue, camo, pin up, and a whole lot of victory rolls for the Stars and Stripes fashion contest! We would like to give a HUGE shoutout to all of our beautiful models, talented fashion designers, and Amy Davis, who all helped make this amazing day possible! We would also like to thank Siobhan Gazur, the featured fashion photographer for this season's Opening Day, for capturing so many amazingly beautiful shots–check out her work!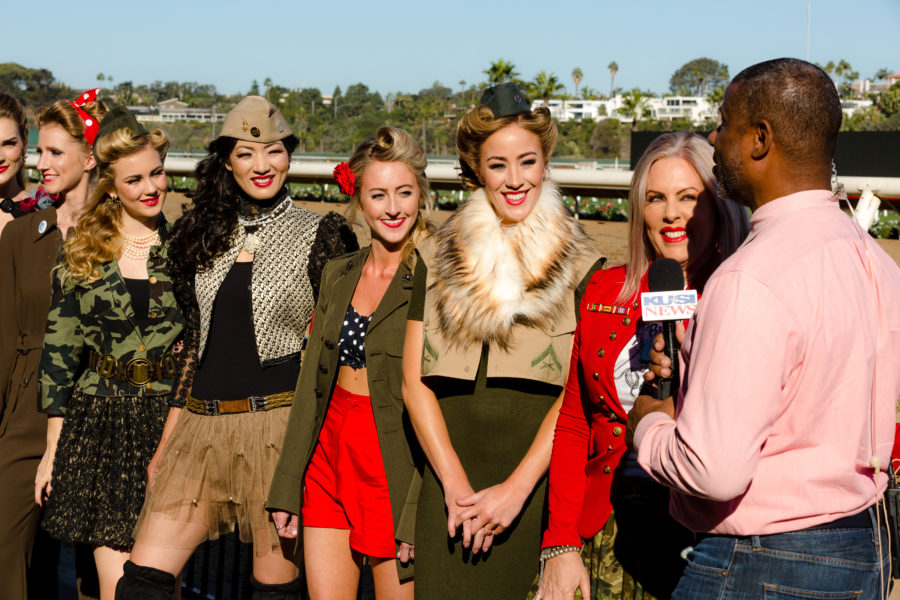 HAPPY HOLIDAYS FROM YOUR STUDIO SAVVY DREAM TEAM!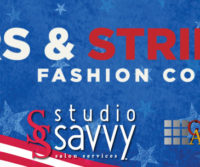 As you may know, this year, the fall Bing Crosby Season Opening Day is being held on Veterans Day, November 11th, 2016. In honor of our Veterans and our amazing country, we invite all fashion-minded guests to participate in the Stars & Stripes Fashion Contest! As sponsors of the Opening Day Fashion Contest, we at Studio Savvy have the lowdown on what our amazing judges will be looking for when choosing the winners, and we want to share our insider knowledge to help all you fashionistas show up in style!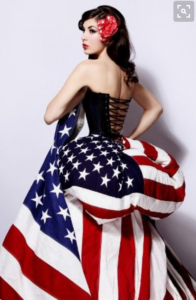 It's that time of year again, folks, the fall season Opening Day at the Del Mar Racetracks, and we at Studio Savvy want to invite all you lovely ladies and handsome men to come join us for another exciting day, full of fashion fun!
WHEN: November 11, 2016 starting at 11:30am
WHERE: Plaza De Mexico
Because Opening day is being held on Veterans' Day this year, the Opening Day Fashion Contest, co-directed by Deena Von Yokes and Joe Cuviello, the themes will feature Red, White and Blue, Camouflage, and Pin Up style.  So even if your best color is red, or you want to add a bold Camo flare, don't forget to top it off with some Pin Up sass!  Deena Von Yokes and the rest of the Glam Squad will be out at Plaza De Mexico, struttin' their stuff along with all of their gorgeous models, so please, come out and flaunt your Freedom-inspired fits too!  We look forward to seeing you all out at another Opening Day at the Del Mar Racetracks!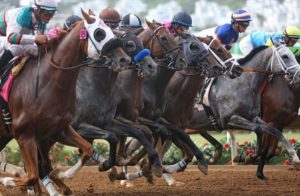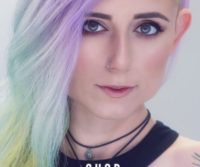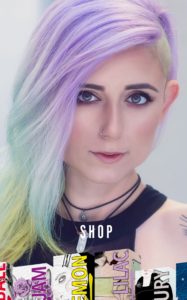 Fun. Funky. Colors.
Studio Savvy is so excited to announce that we are now carrying Pulp Riot hair color products. This color line features all of those fun, funky fashion colors that are all the rage right now. Pulp Riot allows us as artist to be creative painters and use your hair as the canvas!
What is this all about you say? The interview is coming out soon so be ready to watch. It's all so very exciting!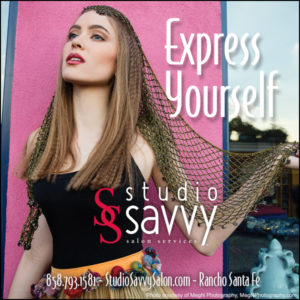 The holidays are coming up faster than we know it, and we at Studio Savvy want to make sure you are feeling and looking your best this holiday season. PLEASE make sure to book ahead because:
Our books are filling up fast for the upcoming holiday months
We want to make sure that you look fabulous for all of your special holiday events
Booking ahead allows us to help you get the best time(s) possible, that fit your schedule, for any service appointments you may need!