Most of us need a little guidance when it comes to that perfect blow out, so here are our Savvy Tips & Tricks to blow drying: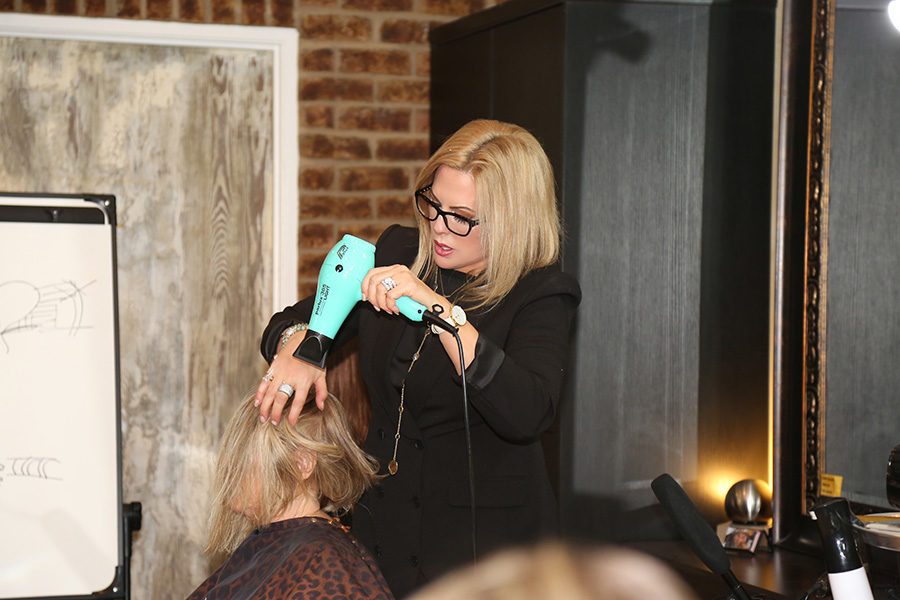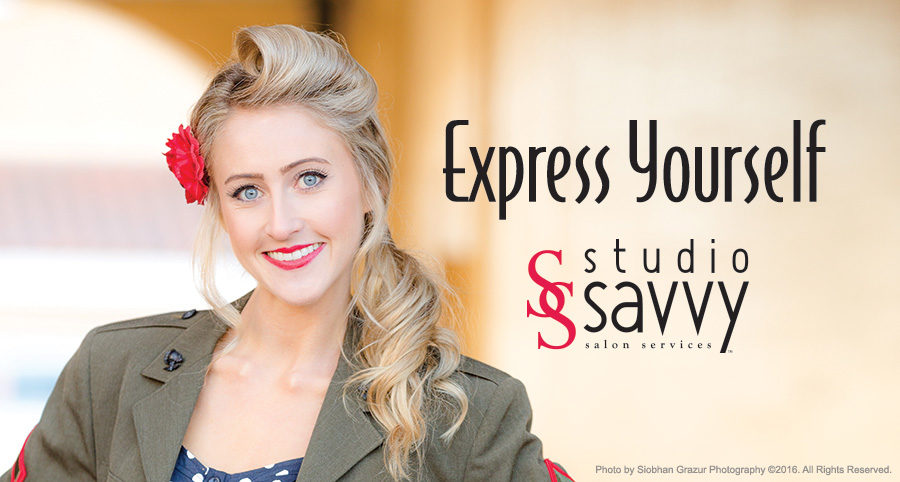 Happy New Year to all you amazing, wonderful clients! We hope your holidays were filled with joy and love.  To show you all how much we appreciate our clients, we are offering a New Year special on all products sold here at Studio Savvy – buy 3 products and get 20% off!! This offer will last for the entire month of January! We feel so lucky to have such fabulous clients, so we want to make you all feel fabulous as well!
Deena and the rest of the Studio Savvy team are so excited to announce that this year we will be expanding the business!  We will now be entering the world of continued education in advanced hair color, hair cutting, hair styling and more with the opening of Deena's Von Savvy Hair Academy!! Deena will be teaching her first class on January 23rd, with many many more classes to come! Education is so important to each and every stylist here at Studio Savvy, and we are so happy that we are now able to share our knowledge with fellow hairstylist, and have the privilege to continue learning ourselves.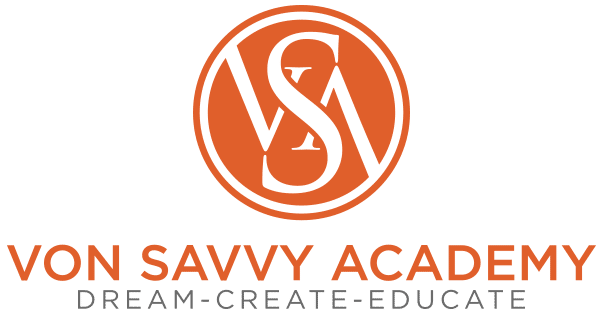 Thank you all so much for being such wonderful people and allowing all of us here at Studio Savvy to take care of your hair!  Stay tuned for more updates on the ever advancing Studio Savvy in this new 2017 year! And don't forget to take advantage of our product special for the month of January!
WE WORK AS A TEAM!!!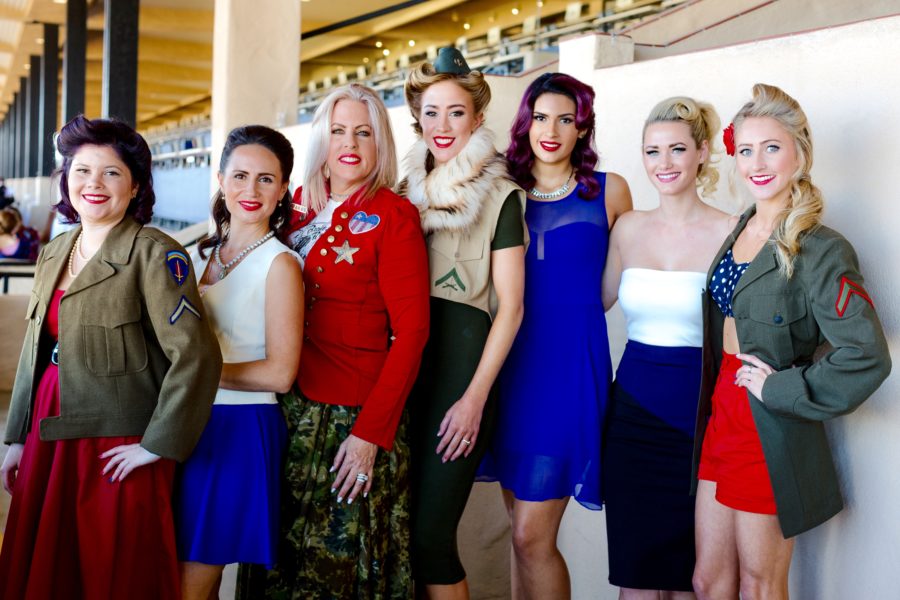 BOOK NOW!  The holiday season is officially here, and so are all of those fun-filled holiday parties and family gatherings. Here at Studio Savvy, we only have a few available spots left for appointments, and we want to make sure everyone is looking their best this season!
For the last five years, Deena has worked very hard to train the Studio Savvy staff, making sure that every one of our girls is highly skilled and highly trained for your hair care needs. So even if you are unable to get in with Deena or your regular stylist, Deena has the upmost confidence that her Dream Team can, and will, take care of you during any service for your holiday needs! We pride ourselves on our ability to work so well as a team, and we want to show you all how much we appreciate each and every one of our clients, so let our tribe take care of you this holiday season!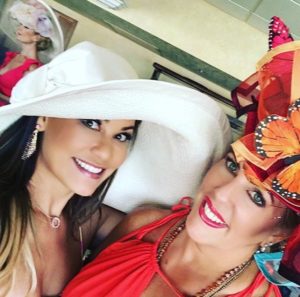 This Saturday, August 20, 2016, the famous Pacific Classic returns to Del Mar! And in honor of Saturday's festivities, Studio Savvy will be hosting another trunk show, here at the salon, on Friday, August 19th. Even more exciting news, Christine A. Moore will be BACK, and she will be here this week to showcase all of her beautiful, designer hats, and to help with all of your hat needs. So please make sure to come by and pick a beauty for this year's Pacific Classic! On a more serious note, we would like to inform everyone that our beloved stylist Karin Scarlett has passed away after her long battle with cancer. Her family will be holding a Celebration of Life gathering for her on Saturday, August 27th at 4:30pm. It will be held at Sea Grove Park, located at 1601 Coast Blvd., Del Mar CA 92014. We encourage all of her clients, and anyone who knew her and had their lives touched by her, to join us and her family and friends, to celebrate her wonderful, beautiful, vivacious, and loving spirit.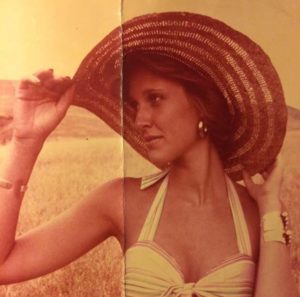 Studio Savvy is GROWING, and staying on the cutting edge of the current fashion trends! As many of you know, and for those of you who don't, Deena is working hard behind the scenes to open her very own Advanced Academy for hair cutting, hair coloring, styling and more! We would like to share our little secret behind our work to make the academy a success, and we would like to call it "Pay It Forward". Kristine Currier, who has coached many entrepreneurs, has been a mentor to Deena through her process of opening her new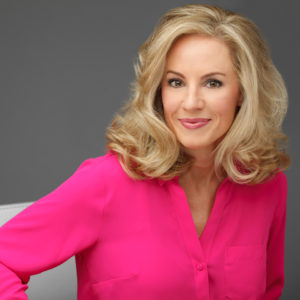 academy and has been key in helping her to find her inspiration for growing to the next level. This academy is yet another facet to the business that Deena has aspired to create. We believe here at Studio Savvy that when you teach, you learn, and knowledge is power! Deena plans to prepare all of her talented stylists here in the salon to teach along side her at the academy. This means that Studio Savvy will always have the highest trained professionals in the salon to take care of all of your hair care needs! If you are interested in working with Kristine Currier on starting, or enhancing any of your business ideas, please visit her site. And please stay tuned to keep updated on our progress on the Advanced Academy progress, coming soon! Savvy Tip: Want that care-free, go-to summer beach wave without all the effort? Let your pillow do the work! Wash your hair at night, spray in some leave-in conditioner (Unite 7 Seconds is available for purchase at Studio Savvy), and let your pillow do the rest of the work while you sleep. Wake up with that tousled wave, and we suggest taking a curling iron or wand to random strands just to give it a more polished look.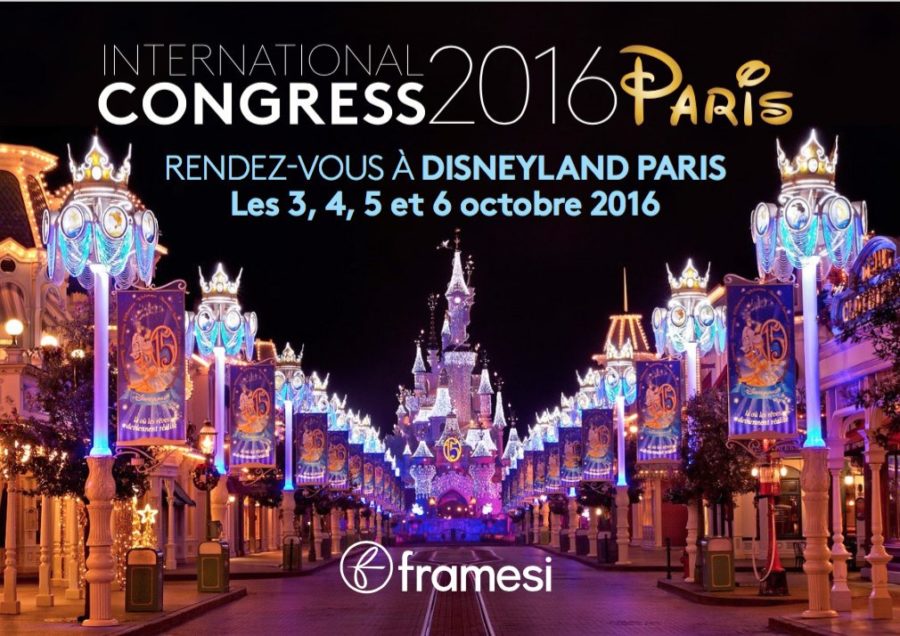 As most of you know, the color product we cherish and use inside the Studio Savvy Salon is Framesi. What you probably don't know is, this October, Framesi is celebrating their 75th birthday at Disneyland Paris, AND, Deena will be attending! Framesi is one of the top color products on the market, and the only color line Deena has used in her salon for over 35 years.
Not only does Deena have the privilege of attending Framesi's 75th birthday celebration in Paris, she will also be attending Fashion Week, as well as visiting the Sassoon Academy in London! Her mission for this trip: to gather more beauty knowledge and bring it back to you fashionistas here, which coincides with our commitment to Fashion is our Passion!
Savvy Tip: Humidity making you all frazzled? It could be dryness, humidity, or damage. Keep hair hydrated and strong with a weekly conditioning treatment. Smoothing a dab of Argan oil, or Framesi's Stop Frizz serum (both available for purchase here at Studio Savvy), throughout midshaft and ends to work wonders!
For your information, Please make note: Deena will be in Europe and out of the salon from October 1st-October 12th. She will also be out of the salon from August 19th-22nd for a wedding in New York.
Brooke will be leaving for the East Coast in September and will be out of the salon September 9th-13th. 
The summer heat is rolling in, and we at Studio Savvy know that everyone is looking for a quick fix to the never ending question: "What do I do with my hair?!" Never fear, the Glam Squad is here! And we've got some tips for you!
back comb the base of your hair (top Mohawk section to crown area) this section can be secured in a pony tail or a braid or just pinned and left down
braid the 2 front sections of your hair (areas on either side of your face, the hair from your hair line to right behind the ear) and secure each braid with an elastic
the remaining hair can be left down, or pulled back into a pony or a bun or a braid
the braids on either side of the hair can then be wrapped around the pony, bun or braid, pinned up to create a Mohawk effect, or simply left down.
These directions are meant to serve as more of a guideline for a fun summer style, but can definitely be modified or played with to create your own unique style.
TIP: Black Ribbon Trend: make any pony, bun or braid more interesting by adding a black ribbon. The ribbon can be simply tied in a knot and the ribbon left hanging or tied into an elegant bow. The ribbon can be tied around an elastic or be used as an embellishment at the end of a pony or braid.
Studio Savvy also would like to remind everyone that it is time to start thinking about what hat you're going to wear to Opening Day! Studio Savvy has the hats you need in ALL price ranges. Note: it will be first come, first serve with the hats we have in the salon so make sure to come out soon to ensure you get the hat you LOVE!
We also are looking forward to being featured in both Ranch and Coast and FINE Magazine in the month of July! Please make sure to check it out!!
As always fashionistas, if you have any questions on our fun summer hairstyles suggested above, please do not hesitate to ask your stylist the next time you are in. And stay savvy on our Studio Savvy adventures on Facebook, Instagram, Twitter and our blog!
Want your hair to stay all night at the next wedding/event you attend? We have some Savvy Tips for you:
up styles, whether it's braiding, twisting, or knotting, should guarantee your style to last even through your best moves on the dance floor

styles hold best on day-old hair so keep in mind, it's best to wash your hair the day before you get all dolled up to witness those "I Do's"
Wedding season is upon us and we at Studio Savvy know how crazy the wedding whirlwinds can get but we are here to help! The best way to make things go smoothly on the Big Day is to book ahead. Trials are SO important to reassure the bride, and everyone in her life, that the hair and makeup are exactly as she wants so she can feel like the most beautiful woman in the world when all eyes are on her.  Make sure to book your favorite makeup artist and/or stylist(s) in advance! The Glam Squad at Studio Savvy has everything you could possibly need when it comes to feeling beautiful on your wedding day or at the next big event you attend; and we want to make sure that we can be prepared to make every woman feel beautiful on the Big Day!
Studio Savvy would also like to let you all know that we were voted FINE Magazine's favorite North County San Diego Wedding Merchant in the beauty field.  A huge THANK YOU to each and every one of you who took the time to vote for us and make that possible!
Savvy Tips and Tricks:
Medium to Long Hair:

Top knots are all the rage right now
Throw it all up in and untucked bun, or just go halvsies with a half knot
Braids are here to stay, as a fun and safe way to spice it up. And we promise, you AND your hair will thanks us!

Products we love:

7 Seconds Leave-in Conditioner
Smooth and Shine
Texturiza
Pearl Hair Shiner

Short hair:

Tousled, undone do's are SO hot and SO easy
Defuse it, blow it, or just wash and go

Products can make or break it:

Boosta
Beach Day
Boing!
Second Day
COLOR THAT'S BEYOND FUN
The Hottest Shades in Color:
Blondes: Go lighter and brighter, especially around the face
Brunettes: Lighten the ends, while keeping the richness at the roots
All products mentioned above can be found here at Studio Savvy and your stylist will be more than happy to teach you how to use them. We would also love to answer any questions you may have about making your hair more wearable this summer!
NOTE:

To all our valued clients, we would like to let you know that:
Deena will be leaving town for Costa Rica from May 12th to May 16th.  She will also be out of the salon from August 19th to August 22nd attending a wedding in New York.
In June, both Kassidy and Mariah will be in Italy from June 8th to June 18th.
Victoria is also going to be in Costa Rica from July 16th to July 23rd.
We would also like to remind everyone that Studio Savvy will be closed on July 15th, because the Glam Squad will be running the Opening Day Hat Contest at the Del Mar Racetracks!
We hope this forewarning gives everyone a chance to book appointments accordingly.  So don't wait!  Book your appointments soon so you can make sure you can get in with your favorite stylist!
As always, and until next time, you can find us anytime on our blog, Facebook, Twitter, and Instagram!
Savvy Tip:  Adding a gloss over your color this summer can help to tone out and/or enhance colors in your hair; even better though, a gloss will add a lot of shine, as well as condition and protect the hair in the coming summer months!
As most of you know, Deena and Desiree merged the Studio Savvy tribe with the Framesi tribe by becoming certified educators; and with their return from certification, they brought home a bunch of Italian Style knowledge that we would like to share with you.  We are totally in love with the Glamour line from Framesi and here's why:
100% gray coverage with all shades

Ensures uniform result from roots to ends with no build up

Reduces damage and prevents color loss

Out performs all other competition in gray coverage, conditioning, shine, fadage and beautiful true to tone colors

Protects the integrity of the hair

Natural, vibrant results
Sure, it's easy to see why anyone would want to use the Glamour color line when coloring hair, but the real reason why we love it so much:
 
Glamour allows us stylists to be artists.
Too often in this industry, stylists can find themselves stuck in a mundane routine, doing the same kind of hair color day in and day out.  With Glamour, your Glam Squad gals are able to step out of that box and get creative with hair color.  Because Glamour offers true to tone bases and a number of vibrant colors as well as pure pigment colors, we are able to use your hair as a canvas, and Glamour as our palette to create beautiful works of walking art!
Whether you're looking to dabble in those fun, funky "party" colors that are so in style right now, or you just want a richer, more vibrant, shiny color, there is something for everyone in the Glamour line.
So ask your stylist about Glamour the next time you visit Studio Savvy, who knows, it may be the best decision you've ever made!  Until next time fashionistas, check us out on our blog, Facebook, Twitter and Instagram!
Your Studio Savvy Tribe wants to keep you informed on why we are the best—besides the obvious reasons! 🙂 As many of you know, and for those of you who don't, Deena has used the Framesi professional haircolor line for over 35 years, and she has introduced all of the stylists to the amazing world of Italian hair color as well. The Framesi founder believes that the hairdresser plays one of the most important roles in society because, when people feel beautiful, they present themselves with more confidence and are then more successful in their everyday endeavors. "Better Beauty = Confidence and Success." Framesi offers a wide variety of the highest-quality permanent and demi-permanent haircolors on the market.
Every one of Framesi's haircolor lines features a rich vegetable coconut oil cream base. A study by the Journal of Cosmetic Science proved (what Framesi has known for decades) that vegetable coconut oil protects the hair better than any other oil during chemical services. Coconut oil leaves the hair in superior condition, provides more resilience and shine, and protects the hair fiber resulting in less damage and minimal fadage. Framesi developers are the most conditioning developers ever created and every one of the developers features coconut and castor oils for maximum protection of the hair and scalp as well.
The original haircolor line from Framesi is called Framcolor Futura. This line, like all of the lines, features the vegetable coconut oil cream base but also has only 2% ammonia. The low 2% ammonia results in less fading and less damage, leaving the hair in superior condition. Futura covers the most resistant gray with incredible shine and cooler tonality.
The next line to emerge from the Framesi creators was Framcolor 2001. Fram 2001 features the same benefits of vegetable coconut oil cream base and low 2% ammonia like Futura, but it is continuously being updated to provide the latest, most up to date technology and color trends. Framcolor 2001 is the most technologically advanced color line in the world, and we have it! The 2001 series allows for more perfect, natural results and permits some of your more natural highlights to shine through.
Glamour is the newest permanent color line to emerge from Framesi. This line promises not only 100% gray coverage, but also ensures a uniform result from root to end without the risk of any color build up (which leaves the hair looking muddy and lifeless). Glamour protects the integrity of your hair as well, and with 49 different shades, including all of those vivid pure pigment "party colors", it can tackle anyone's hair care desires.
Eclectic is the demi-permanent color line from Framesi that sets the standard for all demis on the market. It is a 100% ammonia free, deposit-only, cream color. The vegetable coconut cream base along with conditioning silicone and castor oil, delivers superior condition and shine. Eclectic is great for people who: are sensitive to ammonia, have just begun getting gray or have little gray to cover, change their color often or do not want to make that commitment to permanent haircolor, and/or want fabulous shine. This demi-permanent haircolor also protects the hair up to 400 degrees of heat so it's great for those of you who style your hair often!
Don't worry blondies, we haven't forgotten about you wonderful people who have given us our nickname as "The Blonde Salon." One of the reasons we are able to create such beautiful, blonde heads of hair is because of the amazing bleach, DeColor B that Framesi provides us. DeColor B is one of the safest bleaches on the market. It conditions and protects the hair from damage, decolorizes evenly and the bluing agents refine unwanted warmth that is inevitable when lifting the hair.
As you can see, the Glam Squad at Studio Savvy is head over heels for every one of Framesi's superior color lines and we want to get you excited about it too. We want to make sure that every guest who visits our salon receives the best treatment possible and for us, that all starts with the best color line out there!
Studio Savvy would also like to congratulate Deena and Desiree, once again, on their achievements of becoming pre-certified Framesi educators. This means that they are experts on all Framesi products. We are so proud! Studio Savvy is forever committed to continuing our stylists' education in all aspects of the hair world so we are happy to say that each one of your stylists here will be given the opportunity to get certified as a Framesi educator in the near future as well.
That's all of the schooling we have for now, we hope you enjoyed being hit with a little bit of hair color knowledge. One fashion tip before we say goodbye: Babylights and color melts are still on trend this season, so if you're looking to shake it up a little bit with a new, fun, playful look, ask your Savvy stylist if any of these could be right for you. Until next time fashionistas, check us out on our website, Facebook, Twitter, and Instagram to stay up to date on all our Savvy Fashion adventures!