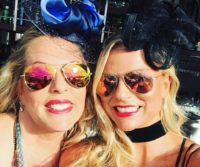 This Wednesday, July 13th from 11am to 7pm is the return of the Spectacular Studio Savvy Salon Trunk Show.
Delicious free food will be catered for your mid-day cravings, from noon to 3pm. And we will be pouring some cool crisp white for the entire event.
Come over to Studio Savvy in Rancho Santa Fe and choose from this seasons most Spectacular Hat Fashions of 2016.
We have gorgeous hats starting at just $35. We are selling famous pieces by nationally renowned, Official Breeders Cup Milliner, Christine A Moore.
Don't miss it! Be sure to tell us about your race day outfit, get great fashion tips, and make this your best summer fashion and race track season yet.
Studio Savvy Salon is located at: 16081 San Dieguito Rd. Suite G3 Rancho Santa Fe, CA 92067
Read More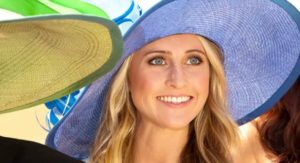 The Studio Savvy Glam Squad will be featured LIVE on CBS Channel 8 News with Ashley Jacobs TOMORROW MORNING, July 7th, at 5:40am and 6:40am.  We will be discussing everything you need to know to get ready for Opening Day, so set your cable boxes to Channel 8 to tune in!
Deena and Joe Cuviello will also be directing a fun little fashion hat contest with FINE Magazine at the Del Mar Plaza, tomorrow at 6pm, so come on out and sign up and join the fun!
The countdown to Opening Day is ON!  If you don't already have your hat, don't worry, we at Studio Savvy have got you covered.  Wednesday, July 13th, we will be hosting a trunk show here at Studio Savvy from noon to 7pm.  Come have a sip of bubbly, and find your hat for this year's Opening Day!
In honor of Opening Day, we will also be running a SPECIAL from Tuesday, July 12th to Saturday, July 16th.  We are offering a complimentary Powerdose with any service!  A Powerdose treatment is one of the best things you can do for your hair this summer, so book now, as availability is limited!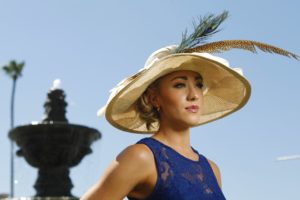 TIP: The biggest question everyone asks themselves, do you get the dress or the hat first? Answer: It all depends on personal preference, but the trick is, bring either your hat or your dress, whichever you pick out first, with you when trying to pair the latter.
We are so excited to see all of you fabulous fashionistas out there at Opening Day on July 15th!  Until then, stay tuned on our blog, Facebook, Instagram and Twitter to see all the fashion fun we are getting into to prepare for the big day!
The summer heat is rolling in, and we at Studio Savvy know that everyone is looking for a quick fix to the never ending question: "What do I do with my hair?!" Never fear, the Glam Squad is here! And we've got some tips for you!
back comb the base of your hair (top Mohawk section to crown area) this section can be secured in a pony tail or a braid or just pinned and left down
braid the 2 front sections of your hair (areas on either side of your face, the hair from your hair line to right behind the ear) and secure each braid with an elastic
the remaining hair can be left down, or pulled back into a pony or a bun or a braid
the braids on either side of the hair can then be wrapped around the pony, bun or braid, pinned up to create a Mohawk effect, or simply left down.
These directions are meant to serve as more of a guideline for a fun summer style, but can definitely be modified or played with to create your own unique style.
TIP: Black Ribbon Trend: make any pony, bun or braid more interesting by adding a black ribbon. The ribbon can be simply tied in a knot and the ribbon left hanging or tied into an elegant bow. The ribbon can be tied around an elastic or be used as an embellishment at the end of a pony or braid.
Studio Savvy also would like to remind everyone that it is time to start thinking about what hat you're going to wear to Opening Day! Studio Savvy has the hats you need in ALL price ranges. Note: it will be first come, first serve with the hats we have in the salon so make sure to come out soon to ensure you get the hat you LOVE!
We also are looking forward to being featured in both Ranch and Coast and FINE Magazine in the month of July! Please make sure to check it out!!
As always fashionistas, if you have any questions on our fun summer hairstyles suggested above, please do not hesitate to ask your stylist the next time you are in. And stay savvy on our Studio Savvy adventures on Facebook, Instagram, Twitter and our blog!
Want your hair to stay all night at the next wedding/event you attend? We have some Savvy Tips for you:
up styles, whether it's braiding, twisting, or knotting, should guarantee your style to last even through your best moves on the dance floor

styles hold best on day-old hair so keep in mind, it's best to wash your hair the day before you get all dolled up to witness those "I Do's"
Wedding season is upon us and we at Studio Savvy know how crazy the wedding whirlwinds can get but we are here to help! The best way to make things go smoothly on the Big Day is to book ahead. Trials are SO important to reassure the bride, and everyone in her life, that the hair and makeup are exactly as she wants so she can feel like the most beautiful woman in the world when all eyes are on her.  Make sure to book your favorite makeup artist and/or stylist(s) in advance! The Glam Squad at Studio Savvy has everything you could possibly need when it comes to feeling beautiful on your wedding day or at the next big event you attend; and we want to make sure that we can be prepared to make every woman feel beautiful on the Big Day!
Studio Savvy would also like to let you all know that we were voted FINE Magazine's favorite North County San Diego Wedding Merchant in the beauty field.  A huge THANK YOU to each and every one of you who took the time to vote for us and make that possible!
Savvy Tip:  Adding a gloss over your color this summer can help to tone out and/or enhance colors in your hair; even better though, a gloss will add a lot of shine, as well as condition and protect the hair in the coming summer months!
As most of you know, Deena and Desiree merged the Studio Savvy tribe with the Framesi tribe by becoming certified educators; and with their return from certification, they brought home a bunch of Italian Style knowledge that we would like to share with you.  We are totally in love with the Glamour line from Framesi and here's why:
100% gray coverage with all shades

Ensures uniform result from roots to ends with no build up

Reduces damage and prevents color loss

Out performs all other competition in gray coverage, conditioning, shine, fadage and beautiful true to tone colors

Protects the integrity of the hair

Natural, vibrant results
Sure, it's easy to see why anyone would want to use the Glamour color line when coloring hair, but the real reason why we love it so much:
 
Glamour allows us stylists to be artists.
Too often in this industry, stylists can find themselves stuck in a mundane routine, doing the same kind of hair color day in and day out.  With Glamour, your Glam Squad gals are able to step out of that box and get creative with hair color.  Because Glamour offers true to tone bases and a number of vibrant colors as well as pure pigment colors, we are able to use your hair as a canvas, and Glamour as our palette to create beautiful works of walking art!
Whether you're looking to dabble in those fun, funky "party" colors that are so in style right now, or you just want a richer, more vibrant, shiny color, there is something for everyone in the Glamour line.
So ask your stylist about Glamour the next time you visit Studio Savvy, who knows, it may be the best decision you've ever made!  Until next time fashionistas, check us out on our blog, Facebook, Twitter and Instagram!
Recently, Studio Savvy asked a little favor of all our wonderful clients to please take the time to visit FINE magazine's website and vote for Studio Savvy Salon Services as one of your favorite San Diego Wedding Merchants.  The deadline is increasingly approaching and we are just sending out a friendly reminder to please, please go vote for your favorite salon, Studio Savvy of course, so we can win!! The questionnaire is multiple choice so it is much easier to just click the bubble next to our name and vote!  We hope the next time we see you we can call ourselves the champions, and all thanks to the support of our lovely fashionistas! As always, check us out on Facebook, Twitter, Instagram and our website!
The Studio Savvy Glam Squad has some good and bad news for you. We also have a request! First, the good news—the Go Red Luncheon and fashion show was a total success! We are so honored to have had the privilege to work with such a huge icon, Zandra Rhodes! We would also like to thank Susie Talman with Susie Talman Photography for all the amazing photos!
We would also like to inform you that Studio Savvy now has two Framesi certified educators in the house! Deena and Desiree passed their certifications this past weekend! We at Studio Savvy believe knowledge is power!
On a more solemn note, we have recently learned that Karin's cancer has relapsed and at this time she is out indefinitely. We sincerely appreciate any and all thoughts and prayers being sent her way. We would also like to assure all of her clients that we are here to take care of their hair care needs while she is out.
Finally, we have a little favor to ask of you. The Glam Squad would love it if you would take the time to visit FINE magazine's website and nominate Studio Savvy Salon Services as one of your favorite San Diego Wedding Merchants. If you have any questions as to how to fill out the nomination, please do not hesitate to email us or ask one of the girls at the front desk.
As always fashionistas, stay tuned for our next post, and if you just can't wait, you can keep up with our fashion adventures on our blog, Facebook, Twitter and Instagram!
Happy Valentine's Day from your girls at Studio Savvy! We are happy to share that Deena is back at it again! Even with her busy schedule, she has found time to help host a couple news segments with Ashley Jacobs on Channel 8 News. The segments will air on Monday, February 8th at 5:40am and 6:40am and will be covering secrets on how to keep your hair sleek and flawless during the upcoming rainy season. Kassidy will be alongside her to assist and talk about the different treatment options we provide to keep your hair shiny and smooth even when it's damp out. They will also be giving a tutorial on how to help any man go from drab to fab and make sure he can not only keep up with his fabulous Valentine's Day date, but, even better, compliment her beauty. We at Studio Savvy just want you to take a second and make sure you and your hair are ready for this holiday of romance—and don't forget that we are here, and more than happy, to help you with any of your hair care needs to get you ready for your big date!
The Glam Squad here at Studio Savvy would like to inform all of you that we are now carrying Parlux 3800 Blowdryers here at the salon for just $145. These professional blowdryers are the same dryers that your stylist uses to give you that beautiful blowout you love during your visit here at Studio Savvy Salon. A blowdryer like this will help you achieve those same results and not only is safer for your hair, but will also last you much longer than your last blowdryer. You can't get these Parlux 3800 blowdryers anywhere else for this price! Please don't hesitate to ask your stylist about these awesome tools the next time you're in!
And all through the race track, not a creature was stirring, not even a horse. No, not even a horse, but at 3:30am Deena Von Yokes and the Studio Savvy Glam Squad were wide eyed and preparing for a full Opening Day Fashion Frenzy. Why? Because "Fashion Never Sleeps!", especially with Studio Savvy!