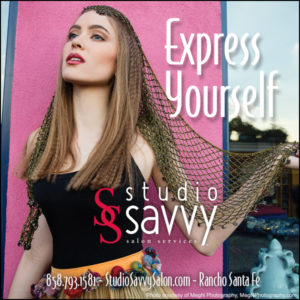 The holidays are coming up faster than we know it, and we at Studio Savvy want to make sure you are feeling and looking your best this holiday season. PLEASE make sure to book ahead because:
Our books are filling up fast for the upcoming holiday months
We want to make sure that you look fabulous for all of your special holiday events
Booking ahead allows us to help you get the best time(s) possible, that fit your schedule, for any service appointments you may need!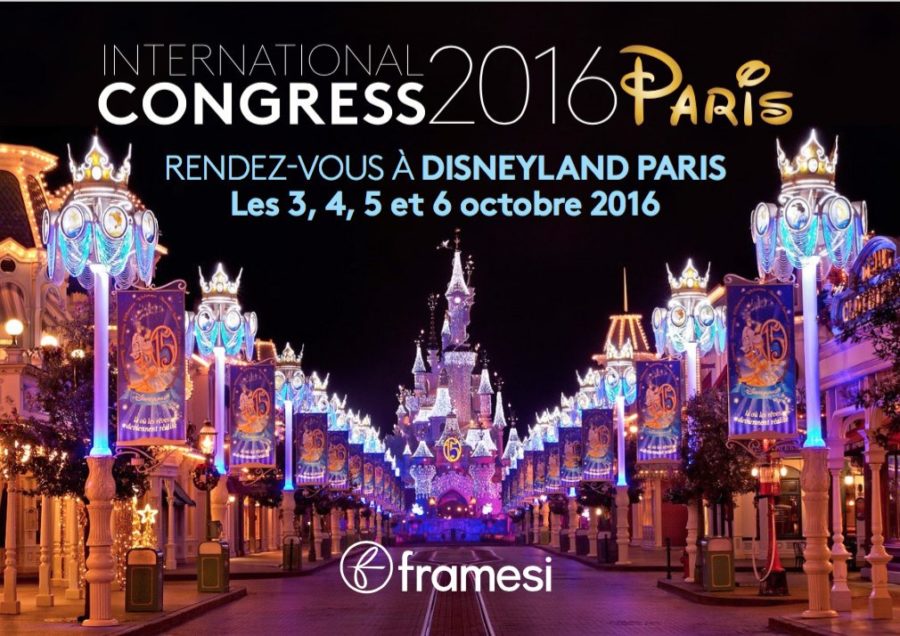 As most of you know, the color product we cherish and use inside the Studio Savvy Salon is Framesi. What you probably don't know is, this October, Framesi is celebrating their 75th birthday at Disneyland Paris, AND, Deena will be attending! Framesi is one of the top color products on the market, and the only color line Deena has used in her salon for over 35 years.
Not only does Deena have the privilege of attending Framesi's 75th birthday celebration in Paris, she will also be attending Fashion Week, as well as visiting the Sassoon Academy in London! Her mission for this trip: to gather more beauty knowledge and bring it back to you fashionistas here, which coincides with our commitment to Fashion is our Passion!
Savvy Tip: Humidity making you all frazzled? It could be dryness, humidity, or damage. Keep hair hydrated and strong with a weekly conditioning treatment. Smoothing a dab of Argan oil, or Framesi's Stop Frizz serum (both available for purchase here at Studio Savvy), throughout midshaft and ends to work wonders!
For your information, Please make note: Deena will be in Europe and out of the salon from October 1st-October 12th. She will also be out of the salon from August 19th-22nd for a wedding in New York.
Brooke will be leaving for the East Coast in September and will be out of the salon September 9th-13th. 
Your fashion experts at Studio Savvy were back at it again for the 22nd annual Opening Day Hats Contest at Del Mar! More than 300 contestants entered the Hats Contest this year, with Andria Elam, from Best Fascinator category, winning the Bing Crosby Grand Prize.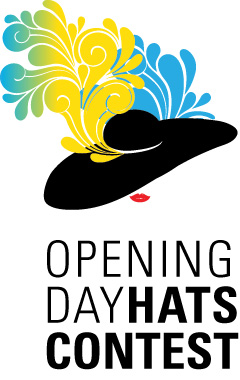 Let's get this party started!
Friday, July 15th, we light this candle. If you have an idea for an Outrageous hat, or you are ready to knock everyone out with the Most Glamorous, Best Fascinator, amazing Best Flowers hat, or one of those Horse Racing, track inspired giddy-ups, then you need to JOIN THE HATS CONTEST and win some serious prizes!
Again this year Deena Von Yokes is the Creative Director for the Opening Day Hats Contest. Right there with her will be the bevy of beautiful models, spectacular hats and fashions that are sure to be stunners. The Studio Savvy Glam Squad will be the fillies charging to the finish to make all these looks complete with hair, make-up and styling directed by Deena. The hats are created by the extraordinary milliner, Christine A Moore. Remaining wardrobe is going to be by local fashion designer sensations, Olga Sanchez, Jemima Dutra, and TRE Boutique shop keep stylist, Sheree Vihon.
Whether you come to watch, or take home the Grand Prize, you are guaranteed to have a great time. Visit the Del Mar Thoroughbred Club web site for full details. We can't wait to see you!
Read More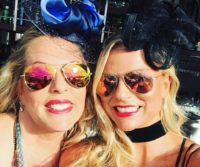 This Wednesday, July 13th from 11am to 7pm is the return of the Spectacular Studio Savvy Salon Trunk Show.
Delicious free food will be catered for your mid-day cravings, from noon to 3pm. And we will be pouring some cool crisp white for the entire event.
Come over to Studio Savvy in Rancho Santa Fe and choose from this seasons most Spectacular Hat Fashions of 2016.
We have gorgeous hats starting at just $35. We are selling famous pieces by nationally renowned, Official Breeders Cup Milliner, Christine A Moore.
Don't miss it! Be sure to tell us about your race day outfit, get great fashion tips, and make this your best summer fashion and race track season yet.
Studio Savvy Salon is located at: 16081 San Dieguito Rd. Suite G3 Rancho Santa Fe, CA 92067
Read More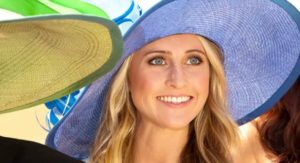 The Studio Savvy Glam Squad will be featured LIVE on CBS Channel 8 News with Ashley Jacobs TOMORROW MORNING, July 7th, at 5:40am and 6:40am.  We will be discussing everything you need to know to get ready for Opening Day, so set your cable boxes to Channel 8 to tune in!
Deena and Joe Cuviello will also be directing a fun little fashion hat contest with FINE Magazine at the Del Mar Plaza, tomorrow at 6pm, so come on out and sign up and join the fun!
The countdown to Opening Day is ON!  If you don't already have your hat, don't worry, we at Studio Savvy have got you covered.  Wednesday, July 13th, we will be hosting a trunk show here at Studio Savvy from noon to 7pm.  Come have a sip of bubbly, and find your hat for this year's Opening Day!
In honor of Opening Day, we will also be running a SPECIAL from Tuesday, July 12th to Saturday, July 16th.  We are offering a complimentary Powerdose with any service!  A Powerdose treatment is one of the best things you can do for your hair this summer, so book now, as availability is limited!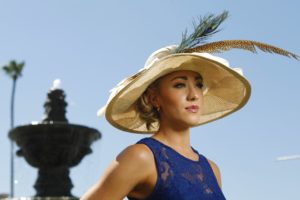 TIP: The biggest question everyone asks themselves, do you get the dress or the hat first? Answer: It all depends on personal preference, but the trick is, bring either your hat or your dress, whichever you pick out first, with you when trying to pair the latter.
We are so excited to see all of you fabulous fashionistas out there at Opening Day on July 15th!  Until then, stay tuned on our blog, Facebook, Instagram and Twitter to see all the fashion fun we are getting into to prepare for the big day!
Studio Savvy would like to invite you all to come out to Party for Ponies this Saturday, June 25th, at Ranch & Coast Plastic Surgery in Del Mar and we've got all the details:
What: Party For Ponies, a pre-Opening Day benefit presented by Ranch and Coast Plastic Surgery and Pebbles By The Beach
Where: 1431 Camino Del Mar
When: June 25th, 2016 from 5:30-9 pm
Attire: Turf Club—Opening Day hats and bow ties
TICKETS ARE LIMITED AND CAN BE PURCHASED AT Party For Ponies
This will be a night full of fashion, philanthropy, music, drinks, and MORE!  Part of the proceeds will be donated to "Saving America's Mustangs," a non-profit founded for the protection and preservation of wild horses.
This event will also feature a fashion show hosted by Pebbles By The Beach, and hair and makeup by your very own Glam Squad!
Don't miss out on the fashion fun!! Please come out and join us, along with Ranch & Coast Plastic Surgery and Pebbles By The Beach! We look forward to seeing each and every one of you!
Savvy Tip:  Adding a gloss over your color this summer can help to tone out and/or enhance colors in your hair; even better though, a gloss will add a lot of shine, as well as condition and protect the hair in the coming summer months!
As most of you know, Deena and Desiree merged the Studio Savvy tribe with the Framesi tribe by becoming certified educators; and with their return from certification, they brought home a bunch of Italian Style knowledge that we would like to share with you.  We are totally in love with the Glamour line from Framesi and here's why:
100% gray coverage with all shades

Ensures uniform result from roots to ends with no build up

Reduces damage and prevents color loss

Out performs all other competition in gray coverage, conditioning, shine, fadage and beautiful true to tone colors

Protects the integrity of the hair

Natural, vibrant results
Sure, it's easy to see why anyone would want to use the Glamour color line when coloring hair, but the real reason why we love it so much:
 
Glamour allows us stylists to be artists.
Too often in this industry, stylists can find themselves stuck in a mundane routine, doing the same kind of hair color day in and day out.  With Glamour, your Glam Squad gals are able to step out of that box and get creative with hair color.  Because Glamour offers true to tone bases and a number of vibrant colors as well as pure pigment colors, we are able to use your hair as a canvas, and Glamour as our palette to create beautiful works of walking art!
Whether you're looking to dabble in those fun, funky "party" colors that are so in style right now, or you just want a richer, more vibrant, shiny color, there is something for everyone in the Glamour line.
So ask your stylist about Glamour the next time you visit Studio Savvy, who knows, it may be the best decision you've ever made!  Until next time fashionistas, check us out on our blog, Facebook, Twitter and Instagram!
Your Studio Savvy Tribe wants to keep you informed on why we are the best—besides the obvious reasons! 🙂 As many of you know, and for those of you who don't, Deena has used the Framesi professional haircolor line for over 35 years, and she has introduced all of the stylists to the amazing world of Italian hair color as well. The Framesi founder believes that the hairdresser plays one of the most important roles in society because, when people feel beautiful, they present themselves with more confidence and are then more successful in their everyday endeavors. "Better Beauty = Confidence and Success." Framesi offers a wide variety of the highest-quality permanent and demi-permanent haircolors on the market.
Every one of Framesi's haircolor lines features a rich vegetable coconut oil cream base. A study by the Journal of Cosmetic Science proved (what Framesi has known for decades) that vegetable coconut oil protects the hair better than any other oil during chemical services. Coconut oil leaves the hair in superior condition, provides more resilience and shine, and protects the hair fiber resulting in less damage and minimal fadage. Framesi developers are the most conditioning developers ever created and every one of the developers features coconut and castor oils for maximum protection of the hair and scalp as well.
The original haircolor line from Framesi is called Framcolor Futura. This line, like all of the lines, features the vegetable coconut oil cream base but also has only 2% ammonia. The low 2% ammonia results in less fading and less damage, leaving the hair in superior condition. Futura covers the most resistant gray with incredible shine and cooler tonality.
The next line to emerge from the Framesi creators was Framcolor 2001. Fram 2001 features the same benefits of vegetable coconut oil cream base and low 2% ammonia like Futura, but it is continuously being updated to provide the latest, most up to date technology and color trends. Framcolor 2001 is the most technologically advanced color line in the world, and we have it! The 2001 series allows for more perfect, natural results and permits some of your more natural highlights to shine through.
Glamour is the newest permanent color line to emerge from Framesi. This line promises not only 100% gray coverage, but also ensures a uniform result from root to end without the risk of any color build up (which leaves the hair looking muddy and lifeless). Glamour protects the integrity of your hair as well, and with 49 different shades, including all of those vivid pure pigment "party colors", it can tackle anyone's hair care desires.
Eclectic is the demi-permanent color line from Framesi that sets the standard for all demis on the market. It is a 100% ammonia free, deposit-only, cream color. The vegetable coconut cream base along with conditioning silicone and castor oil, delivers superior condition and shine. Eclectic is great for people who: are sensitive to ammonia, have just begun getting gray or have little gray to cover, change their color often or do not want to make that commitment to permanent haircolor, and/or want fabulous shine. This demi-permanent haircolor also protects the hair up to 400 degrees of heat so it's great for those of you who style your hair often!
Don't worry blondies, we haven't forgotten about you wonderful people who have given us our nickname as "The Blonde Salon." One of the reasons we are able to create such beautiful, blonde heads of hair is because of the amazing bleach, DeColor B that Framesi provides us. DeColor B is one of the safest bleaches on the market. It conditions and protects the hair from damage, decolorizes evenly and the bluing agents refine unwanted warmth that is inevitable when lifting the hair.
As you can see, the Glam Squad at Studio Savvy is head over heels for every one of Framesi's superior color lines and we want to get you excited about it too. We want to make sure that every guest who visits our salon receives the best treatment possible and for us, that all starts with the best color line out there!
Studio Savvy would also like to congratulate Deena and Desiree, once again, on their achievements of becoming pre-certified Framesi educators. This means that they are experts on all Framesi products. We are so proud! Studio Savvy is forever committed to continuing our stylists' education in all aspects of the hair world so we are happy to say that each one of your stylists here will be given the opportunity to get certified as a Framesi educator in the near future as well.
That's all of the schooling we have for now, we hope you enjoyed being hit with a little bit of hair color knowledge. One fashion tip before we say goodbye: Babylights and color melts are still on trend this season, so if you're looking to shake it up a little bit with a new, fun, playful look, ask your Savvy stylist if any of these could be right for you. Until next time fashionistas, check us out on our website, Facebook, Twitter, and Instagram to stay up to date on all our Savvy Fashion adventures!