Want your hair to stay all night at the next wedding/event you attend? We have some Savvy Tips for you:
up styles, whether it's braiding, twisting, or knotting, should guarantee your style to last even through your best moves on the dance floor

styles hold best on day-old hair so keep in mind, it's best to wash your hair the day before you get all dolled up to witness those "I Do's"
Wedding season is upon us and we at Studio Savvy know how crazy the wedding whirlwinds can get but we are here to help! The best way to make things go smoothly on the Big Day is to book ahead. Trials are SO important to reassure the bride, and everyone in her life, that the hair and makeup are exactly as she wants so she can feel like the most beautiful woman in the world when all eyes are on her.  Make sure to book your favorite makeup artist and/or stylist(s) in advance! The Glam Squad at Studio Savvy has everything you could possibly need when it comes to feeling beautiful on your wedding day or at the next big event you attend; and we want to make sure that we can be prepared to make every woman feel beautiful on the Big Day!
Studio Savvy would also like to let you all know that we were voted FINE Magazine's favorite North County San Diego Wedding Merchant in the beauty field.  A huge THANK YOU to each and every one of you who took the time to vote for us and make that possible!
Savvy Tips and Tricks:
Medium to Long Hair:

Top knots are all the rage right now
Throw it all up in and untucked bun, or just go halvsies with a half knot
Braids are here to stay, as a fun and safe way to spice it up. And we promise, you AND your hair will thanks us!

Products we love:

7 Seconds Leave-in Conditioner
Smooth and Shine
Texturiza
Pearl Hair Shiner

Short hair:

Tousled, undone do's are SO hot and SO easy
Defuse it, blow it, or just wash and go

Products can make or break it:

Boosta
Beach Day
Boing!
Second Day
COLOR THAT'S BEYOND FUN
The Hottest Shades in Color:
Blondes: Go lighter and brighter, especially around the face
Brunettes: Lighten the ends, while keeping the richness at the roots
All products mentioned above can be found here at Studio Savvy and your stylist will be more than happy to teach you how to use them. We would also love to answer any questions you may have about making your hair more wearable this summer!
NOTE:

To all our valued clients, we would like to let you know that:
Deena will be leaving town for Costa Rica from May 12th to May 16th.  She will also be out of the salon from August 19th to August 22nd attending a wedding in New York.
In June, both Kassidy and Mariah will be in Italy from June 8th to June 18th.
Victoria is also going to be in Costa Rica from July 16th to July 23rd.
We would also like to remind everyone that Studio Savvy will be closed on July 15th, because the Glam Squad will be running the Opening Day Hat Contest at the Del Mar Racetracks!
We hope this forewarning gives everyone a chance to book appointments accordingly.  So don't wait!  Book your appointments soon so you can make sure you can get in with your favorite stylist!
As always, and until next time, you can find us anytime on our blog, Facebook, Twitter, and Instagram!
Savvy Tip:  Adding a gloss over your color this summer can help to tone out and/or enhance colors in your hair; even better though, a gloss will add a lot of shine, as well as condition and protect the hair in the coming summer months!
As most of you know, Deena and Desiree merged the Studio Savvy tribe with the Framesi tribe by becoming certified educators; and with their return from certification, they brought home a bunch of Italian Style knowledge that we would like to share with you.  We are totally in love with the Glamour line from Framesi and here's why:
100% gray coverage with all shades

Ensures uniform result from roots to ends with no build up

Reduces damage and prevents color loss

Out performs all other competition in gray coverage, conditioning, shine, fadage and beautiful true to tone colors

Protects the integrity of the hair

Natural, vibrant results
Sure, it's easy to see why anyone would want to use the Glamour color line when coloring hair, but the real reason why we love it so much:
 
Glamour allows us stylists to be artists.
Too often in this industry, stylists can find themselves stuck in a mundane routine, doing the same kind of hair color day in and day out.  With Glamour, your Glam Squad gals are able to step out of that box and get creative with hair color.  Because Glamour offers true to tone bases and a number of vibrant colors as well as pure pigment colors, we are able to use your hair as a canvas, and Glamour as our palette to create beautiful works of walking art!
Whether you're looking to dabble in those fun, funky "party" colors that are so in style right now, or you just want a richer, more vibrant, shiny color, there is something for everyone in the Glamour line.
So ask your stylist about Glamour the next time you visit Studio Savvy, who knows, it may be the best decision you've ever made!  Until next time fashionistas, check us out on our blog, Facebook, Twitter and Instagram!
Recently, Studio Savvy asked a little favor of all our wonderful clients to please take the time to visit FINE magazine's website and vote for Studio Savvy Salon Services as one of your favorite San Diego Wedding Merchants.  The deadline is increasingly approaching and we are just sending out a friendly reminder to please, please go vote for your favorite salon, Studio Savvy of course, so we can win!! The questionnaire is multiple choice so it is much easier to just click the bubble next to our name and vote!  We hope the next time we see you we can call ourselves the champions, and all thanks to the support of our lovely fashionistas! As always, check us out on Facebook, Twitter, Instagram and our website!
Looking forward to the warm, sunny weather that comes with summer, but dreading the dull, brittle, and even frizzy hair that comes along with it?  Never fear, Studio Savvy is here! And we've got some weapons in our arsenal that can help combat any hair problems you may encounter this summer.
Most of you know about the Powerdose treatments we offer here, but some of you may not, so we'll break it down for all of you. The Powerdose features core-to-surface technology to target all areas of the hair strand, delivering deep-conditioning and shine. Protein molecules dive inside the hair and fill "potholes" to strengthen, while ceramides close the cuticle on the outside to smooth. This treatment offers instant repair, reconstructing and rehydrating fragile, lifeless hair making the hair look and feel soft, shiny and healthy for UP TO 8 weeks (depending on the condition of the existing hair).
Olaplex is another service we offer here at Studio Savvy, it is the only product of its kind and the entire beauty industry has been buzzing about it for a while now. Contrary to popular belief, Olaplex is NOT a conditioning treatment–conditioners are cosmetic, but Olaplex works internally to cross link bonds that have been broken. Olaplex offers both in-salon and at-home treatment options. It allows us to rebuild the strength, structure, and integrity of the hair. Olaplex will relink bonds that are broken during chemical services and immediately strengthen the hair—but it's not just for people who have chemical services done, it can be used on any client. Olaplex is a great way to sustain the structure of the hair, leaving the hair feeling soft, manageable, and reducing breakage. The best part about it? Even if you stop using Olaplex, the disulfide link is permanent—bonds that have been created won't break and then cause the hair to break!
The biggest weapon we have in our armory is the Global Keratin Smoothing treatment for all you curly, wavy, frizzy haired clients out there. GK penetrates the cuticle of the hair to improve texture, enhance manageability and reduce frizz. This treatment does not straighten the hair, it will not remove all of the natural curl but it does smooth out wave and curl while eliminating frizz, repairing damage, and delivering shine. Global Keratin penetrates the hair shaft delivering important conditioning and moisturizing benefits which in turn, improves softness and reduces friction, enabling hair to better withstand heat, making the hair less prone to breakage. One of our favorite parts about this treatment is that it reduces drying time, making the hair more manageable for you to style at home—or not! It allows you to air dry your hair, which is a great option for all of our busy lifestyles, and it lasts anywhere from 3-5 months!
We hope this bit of information has made you even more hopeful and excited for the upcoming summer months, and washed any worries away concerning the abuse your hair might take. Make sure to ask your stylist about any one of these treatments and what the right option is to get you summer ready! And as always, you can keep up on all of the Glam Squad's fashion adventures on our blog, Facebook, Twitter and Instagram!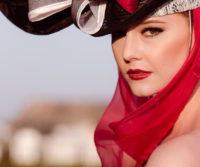 As you can tell from this great video from SJUTV, our Hollywood Fashions and Fashion Contest were again a big hit for the Fall race track meet at Del Mar. Our friends Joe Harper and Craig Dado give some nice information for all you race track and fashion fans out there. We love the track side tables. And dressing for the Turf Club is always fun. The track is a fantastic venue to show off your fashion style, whether it's opening day or any other day of the racing meet. Their web site has all the deeds DMTC.com, and for those of you that want to know what that stands for… Del Mar Thoroughbred Club. Now it's time to Dress Up and Head Out. We'll see you there!
And all through the race track, not a creature was stirring, not even a horse. No, not even a horse, but at 3:30am Deena Von Yokes and the Studio Savvy Glam Squad were wide eyed and preparing for a full Opening Day Fashion Frenzy. Why? Because "Fashion Never Sleeps!", especially with Studio Savvy!
For the 8th year in a row Leonard Simpson's Fashion Forward® is holding the annual 10 Best Dressed Awards Gala. The awards honor San Diego Philanthropists who dress everyday with the Gloves of Compassion and a Coat of Courage®. This is a special year, not only is this year's proud benefactor "The Moyer Foundation", it is also a tribute to 10 Best Dressed Co-Founder, Sally B. Thornton who sadly passed away this past June. We will be at the awards to honor Sally for all she has done. We will be watching the awards continue the tradition of raising funds and helping them put on another fantastical-theatrical fashion show.
Over the past few years Deena Von Yokes has been a contributor to the awards by contributing her styling talents to the production of the show, and having her team handle all the hair, make-up and costume styling for what is always an absolutely stunning show!
This year however is extra special, with a wonderful surprise for all of us. Read More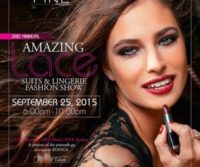 The beat goes on for The Studio Savvy Glam Squad. We are happy to be collaborating with FINE Magazine by dressing some exclusive hair collections for the Amazing Lace Fashion Show. This event will spice up the season with exclusive designs and San Diego's FINEST looks. Come see these tart, whimsical and seductive fashions.Are you ready for a extravagant evening full of fashion and food? FINE magazine is hosting their 3rd annual Amazing Lace & Suit Lingerie Fashion Show this Friday, September 25th.   We are only a couple days away! Last chance to buy tickets is Wednesday, September 23th at midnight! Models will be dressed in high end couture lingerie and suits from local San Diego Boutiques. Proceeds will go towards The B.I.A.N.C.A. non-profit organization helping children with autism.
Event will be from 6:00pm to 9:00pm at the Rancho Santa Fe Cielo Village.
Tickets are going fast so get your tickets HERE before they run out!  They will also be sold at the door before showtime for a higher price. Read More

The Studio Savvy Glam Squad had a fabulous time collaborating with the amazing JodyLynn Photography and Cotch Diaz as they captured behind the scene footage at UNITE's salon. The Studio Savvy team loved partnering up to show their retro, playful theme that they put together for the UNITE show case. Check out this fun demonstration video done by Jody Pinchin and the still photography done by Cotch Diaz. Keep us in mind for any of your future special events!