The Studio Savvy Glam Squad had a fabulous time collaborating with the amazing JodyLynn Photography and Cotch Diaz as they captured behind the scene footage at UNITE's salon. The Studio Savvy team loved partnering up to show their retro, playful theme that they put together for the UNITE show case. Check out this fun demonstration video done by Jody Pinchin and the still photography done by Cotch Diaz. Keep us in mind for any of your future special events!
The Studio Savvy Glam Squad is hosting a trunk show to help everyone get race day fabulous for the Pacific Classic this FRIDAY, AUGUST 21st! Famous hat designer Christine A. Moore will be here at the salon displaying her beautiful hats and ready to answer any hat fashion questions you may have. Our Studio Savvy Salon is OPEN FROM 9-8PM as HATS ARE AVAILABLE NOW. Both Deena and Christine will be here to share their fashion expertise so come join the fashion fun and pick out a fabulous hat to give you that perfect finishing touch to your look for the Del Mar Pacific Classic on Saturday, August 22nd.
We look forward to seeing you, and as always, we appreciate all your support!
Studio Savvy Salon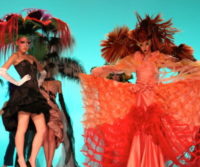 Studio Savvy stylist Deena Von Yokes and Kassidy Vaughan are going to further their education at London's Salon International Expo. They will be out of the country to further their hair knowledge and sharpen their skills as they watch beautifully executed cut and color to stunning finished styling. Deena is going to be using her London inspiration to bring back and display for the Hollywood Fashion contest at the Del Mar racetrack this Opening day fall meet on October 29th. They are very excited for this cutting edge event and can't wait to bring some high fashion knowledge and new skills to keep things up to date.
Deena will be gone October 5th and will be back in the salon on Friday October 16th.
Kassidy will be gone  September 29 and will be back in the salon Tuesday October 20th.
Please be sure to book your appointments accordingly so they can see you before their trip! Call us at (858) 793-1581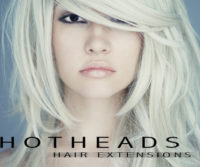 The Studio Savvy GlamSquad loves Hotheads! Hotheads human hair tape in extensions is a great way to achieve fabulous new lengths without damaging your hair with the use of tools or harsh heat. They are designed to lay flat to the head while still adding luxurious desired thickness. Check out these Hothead fitness tricks and all there info in the links below! You can call us at (858)793-1581 or book your appointment online.
Studio Savvy Salon, Christine Moore Millinery and the Studio Savvy Glam Squad were all out in full regalia for all the TV interviews showing off Del Mar Race Track Opening Day Fashions for the masses. Watch all the interviews and see how we take Del Mar by storm! Interviews are with San Diego Television News shows on CW6, NBC7, CBS8, KUSI9, and ABC10.
Get ready, Get set, GLAM! Studio Savvy was on the look out for the five most stand out hats this opening day. Deena Von Yokes loves being a part of the fashion community and enjoyed being the creative and director of the Opening day hat contest. The Studio Savvy Glam Squad is always inspired to go above and beyond while putting a fresh spin on amazing trends. Nothing says race day ready like the spectacular sizzling hats and fabulous striking fashion! Take a look and get inspired for the up and coming Pacific Classic!
Available at studio Savvy Designer Christine Moore hats.